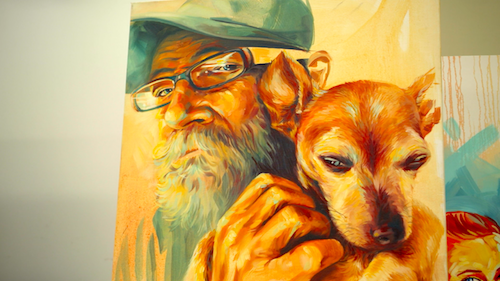 How We Discovered "Faces of Santa Ana"
Our episode on Faces of Santa Ana, an art program that connects teenagers to their homeless neighbors, is taking a turn this week: We're unveiling in-depth recorded interviews with a student and her portrait subject. Now PM Romero, one of the directors of the ISHUES Project, sheds light on the filmmaking process.
How did you find Faces of Santa Ana?
I met Brian Peterson, the founder of FOSA, through our mutual involvement with an organization called Artists United to End Homelessness. AUEH is a group that brings together artists who use art as a means to address issues related to homelessness. Brian and I connected because what he was trying to do through painting was very similar to what I was trying to do through music. Brian has a big heart, and that quality is infectious.
How does the "Faces of Santa Ana" episode fit into The ISHUES Project?
The ISHUES Project is about how small community-based actions can influence and promote a more sustainable future for the human race. It is not about the actions of leaders, but about each of us leading in our own way. I hope the Faces of Santa Ana episode inspires people to access the opportunities available to them in their day to day lives, and sparks a desire to make a difference.
What surprised you about this program?
What continues to surprise me is how deeply rooted the problem of homelessness is in our overall economic system. Of course, millions of people are homeless—how could it be any other way? Our way of governance guarantees a large and growing population of the disenfranchised. To address the causes of homelessness is to attack our very way of life—that is a very uncomfortable thing to advocate for. At some point, we will be forced to have a serious conversation, or admit we have no intention of living up to our ideals.
What story from this "Faces of Santa Ana" sticks out for you and why?
Kirby and Sassy. The relationship between student artist and homeless subject is at the heart of this episode.
Since filming, how has it affected the way you see art, teenagers, school and homeless people?
I think youth are the key to solving many of the challenging issues of our time, issues us old folk have failed to address. The younger generation are not confined by our old ways of thinking. They are armed with technology, access to information, and ways to communicate with each other, like no other society in human history. I am hopeful they will see our connectedness and not get lost in our petty differences. I am optimistic.
What did you learn about yourself in the process of filming Faces of Santa Ana?
Hell, I don't know, I guess from time to time it can feel like I'm pushing sand in the ocean, that our country's problems are far greater than our capacity to solve them, and then I meet someone like Brian. His energy and resolve are the kick in the butt to keep going, to keep fighting for a more just version of ourselves. The takeaway is this: It's OK to rest for a moment, but get up quick and keep moving forward.
Have you kept in touch with the teacher, Brian Peterson, the students and portrait subjects since filming? What have you discovered?
We filmed Brian and his students for over 6 months. During that time, we captured many important moments that did not make the final cut of the episode. We plan on releasing supplemental pieces to give greater context to the efforts of Brian and his students. The ISHUES Project also recently purchased one student's paintings from the gallery. Going forward, I think filmmaker, teacher, students and the subject community will forever be linked!